Hazardous Materials Emergency Response
First Responder Operations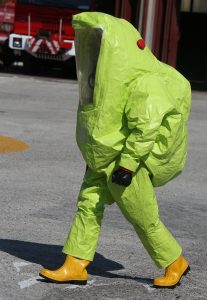 Hazardous Materials Technician

Hazardous Materials Technician Refresher
---
Courses Available upon Request
The prices listed are for a group of 10-12 students. The price per student may be lower or higher, depending on the number of students in your class. The prices shown below are based on training being delivered at our Baltimore, Maryland School. These client operations-specific hands-on focused training classes can be performed at your location upon request. Instructor travel cost is additional.
CONSTRUCTION INDUSTRY COURSES:
10-hr Construction Industry Basic Safety Principles
30-hr Construction Industry Basic Safety Principles
DEPARTMENT OF TRANSPORTATION COURSES:
DOT Hazardous Materials Packaging & Handling – $100.00 Per Student
DOT Initial/Reoccurring Training – This 8-hour program is designed to meet the initial, and every three years reoccurring, training requirements found in 49 CFR 172.704. The training addresses: General Awareness, Familiarization, Safety, and Security Awareness for "Hazardous Materials Employees". It does not include "Function Specific" training. Please call for pricing.
ENVIRONMENTAL COMPLIANCE COURSE:
Hazardous Waste Management – Please call for pricing
GENERAL SAFETY AND HEALTH COURSES:
Asbestos Awareness (2 hours) – $40.00 Per Student
Back Injury Protection (1-3 hours)- $40.00 Per Student
Bloodborne Pathogens (1-3 hours) – $00 Per Student
Confined Spaces in Construction – $100.00 Per Student
Confined Space Rescue (8 hours) – $200 Per Student
Fall Protection – (1-3 hours) – $50.00 Per Student
First Aid/CPR & AED (adult)- $75.00 Per Student
First Aid/CPR & AED (pediatric)- $75.00 Per Student
Forklift Safety Training (1-3 hours) – $00 Per Student
Hazardous Materials Technician (80 hours) –client specific, please call for pricing
Hazardous Materials Technician (40 hours) – client specific, please call for pricing
Hazard Communication/SARA Title III Worker Right-to-Know (1-3 hours) – $50.00 Per Student
Hazardous Waste Site Worker (40-hours)- $550.00 Per Student
Hazardous Waste Site Worker Refresher (8-hours) – $100.00 Per Student
Hazardous Waste Site Worker Supervisor – $100.00 Per Student
Hazardous Waste Site Worker Upgrade (16-hours) from our 24 hour Site Worker course $300.00 Per Student
Industrial Fire Brigade Training 8-hours) – client specific, please call for pricing
Lock-Out/Tag-Out: Control of Hazardous Energy (1-3-hours) – $00 Per Student
On-Scene Incident Commander I (8-hours) – $150.00 Per Student
On-Scene Incident Commander II (16 hours)- client specific, please call for pricing
Respiratory Protection (1-3 hours) – client specific, please call for pricing